5 Unique Custom Home Design Trends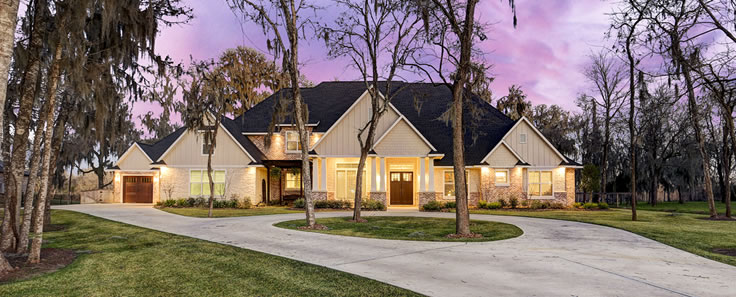 Building a custom home means you have the freedom to personalize your home from the ground up. In Fulbrook Acreage Estates, building a new custom home on your acreage lot can range from a simple 3-bedroom craftsman-style home to a more elaborate design. Here are a few ideas to fuel your imagination.
Outlets everywhere
In the bathroom, near your balcony, inside your kitchen cabinets, or outside on the patio. You can simply never have enough outlets. Building a custom home lets you find the most convenient places to designate as your charging stations (or help you prepare for Christmas lighting!)
Multi-Functional Mudroom
The mudroom can be so much more than a storage space or back-entry way. Add a rinse-off station for boots or a bathtub to easily give your dog a bath. Or make it dual purpose with sewing station or space for a second washer/dryer.
Outdoor Living Space
Staying in is the new going out. Outdoor living spaces are a great way to bring the comfort of the indoors to be enjoyed as a gathering space in nature. Many homeowners are turning to their backyards as a true extension of their home.
Central vacuum system
Never pick-up a vacuum again. A central vacuum system is designed to remove dirt, dust and debris through tubing installed inside the walls to a collection container in a remote utility space. It has incredible suction power and all you need to do is simply connect the hose!
Upstairs Laundry Room
No more lugging laundry up and down the stairs! Many homeowners are choosing to have their laundry room built upstairs, for easy access from bedrooms.
Here in Fulbrook acreage Estates, you can build your dream home on a beautiful acreage lot spanning 1-3+ acres with the choice for wooded, riverfront or lakefront views.