The Fascinating History of Pickleball: From Backyards to the Olympics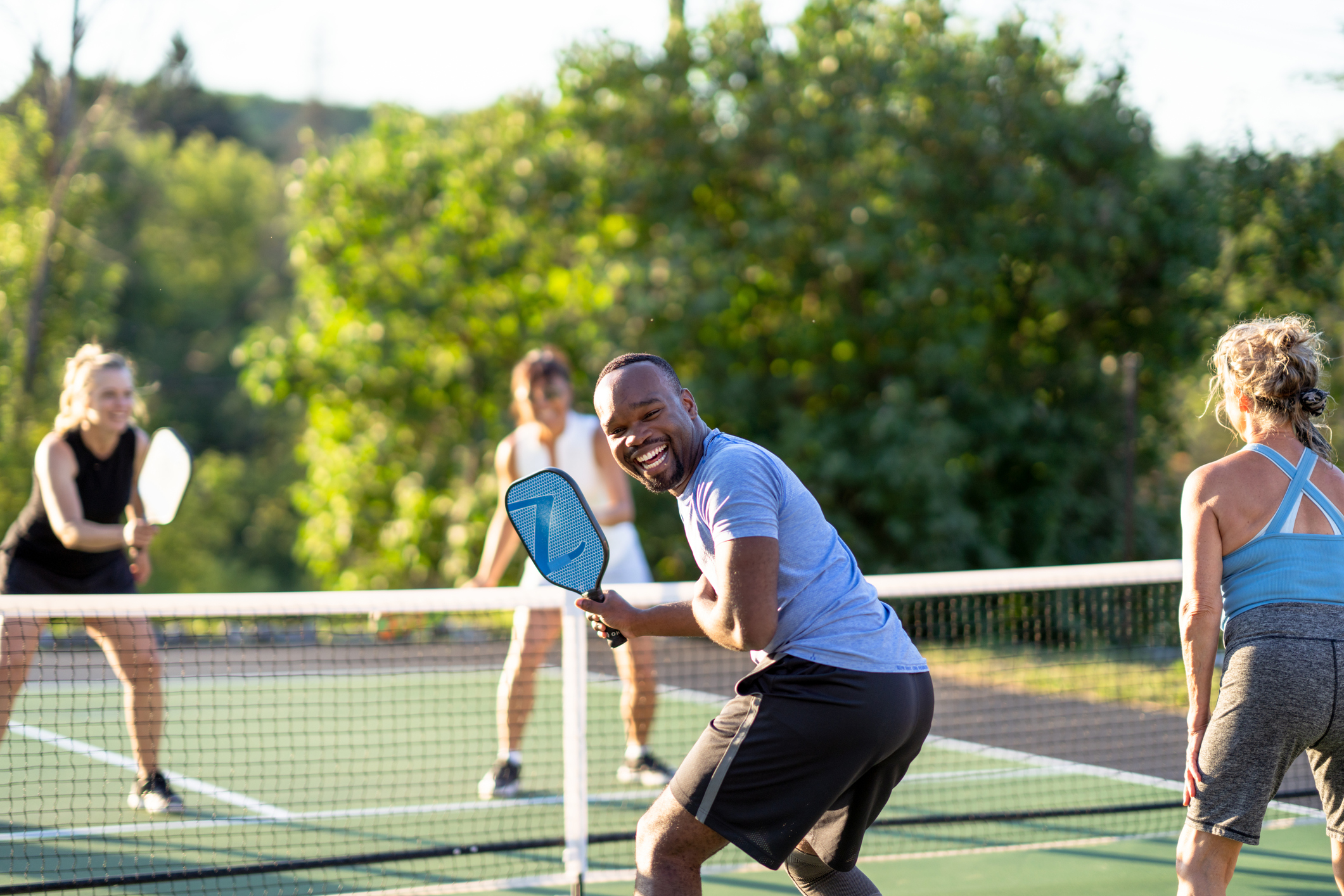 If you haven't heard of pickleball, then you're in for a treat. This growing sport has captured hearts worldwide, and it's no wonder. Pickleball has become a favorite for people of all ages and skill levels due to its fast-paced action and accessible rules. But where did this sport come from? In this blog post, we'll explore the fascinating history of pickleball, from its humble beginnings in a Washington State backyard to its possible status as an Olympic sport.
In 1965, a group of friends - Joel Pritchard, Bill Bell, and Barney McCallum - were trying to think of a new game to play with their families. They had some badminton equipment but no shuttlecock, so they improvised with a Wiffle ball and some wooden paddles. They set up a makeshift court on Pritchard's driveway and began to play. The game proved to be so much fun that they continued to play it over the next several weekends, refining the rules as they went. Soon, their friends and neighbors began to take notice, and before they knew it, the game quickly gained popularity throughout the Pacific Northwest.
As the popularity of the game grew, so did the need for formal rules.In 1967, with the help of a local tennis coach, Pritchard and McCallum created the first official rulebook for pickleball.
The sport was named after Pritchard's dog, Pickles, who would often chase after wayward balls during the early matches. The first-ever pickleball tournament was held in 1976, and by 1984, there were over 100,000 players in the United States alone.
Over the years, pickleball has continued to evolve and grow. In 1990, the International Pickleball Federation (IPF) was founded to govern the sport and promote its growth around the world. The sport has expanded beyond its backyard roots and is now played in locations ranging from community centers to school gyms to professional courts. In 2019, pickleball was officially recognized by the International Olympic Committee (IOC), marking a significant milestone for the sport.
Pickleball's accessibility is one of the key factors contributing to its popularity. The smaller court size and slower ball speed make it easier for players of all ages and abilities to pick up the game quickly. It's also one of the few sports that can be played indoors or outdoors, making it a great option no matter what the weather is like. Pickleball's social aspect is also appealing, as many players enjoy the opportunity to meet new people and play in tournaments with others.
What about the future of pickleball? With the sport's recent recognition by the IOC, many pickleball enthusiasts are hoping that it will someday become a potential Olympic event. Pickleball is also gaining popularity in other countries, such as Canada, Australia, and Spain, which could lead to even more growth and recognition in the future. Regardless of what happens, it's clear that pickleball has come a long way since its backyard beginnings, and its future looks very bright.
Pickleball's history is a testament to the power of passion and innovation. Its founders had no idea that their backyard game would one day become an internationally recognized sport, but their dedication to refining the rules and promoting the game propelled it to where it is now. Pickleball's accessibility, social aspect, and fun gameplay have made it a favorite among players around the world. Whether you're a seasoned pickleball pro or a curious beginner, there has never been a better time to discover the fun and excitement of this amazing sport.
Become a part of our thriving new home community, Fulbrook on Fulshear Creek, where you'll be greeted with a friendly atmosphere and a simpler way of life. We're located in the charming small town of Fulshear, just 35 miles west of downtown Houston.