4 Great Reasons to Build on Waterfront Property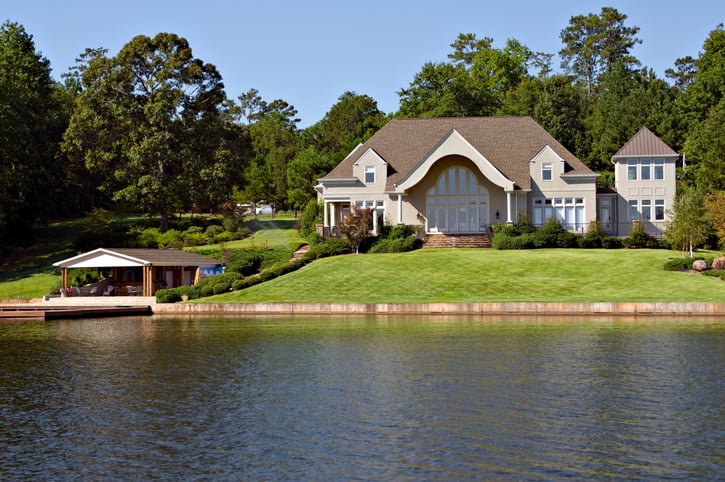 Nothing in the world compares to waking up and looking out your window at the water. There's a soul-soothing quality that those who are fortunate enough to find themselves in a home on the water get to experience on a daily basis. It's like the wonder you felt at everything as a child, except this sense of wonder never goes away.
Yes, waterfront living is special for evoking such rich emotion, but there are also other, more concrete things that make waterfront living so nice. Here are 4 of the very best reasons to build on waterfront property:
Value:

Your home will be worth more than a comparable home on a "land" lot. Even though bodies of water themselves are not rare, the land that surrounds them that is available for building a home is pretty scarce. That makes your land highly desirable and therefore worth more to buyers.
Privacy:

You'll experience a sense of privacy and solitude that most people can only dream about. That's because homes on the water tend to be built on larger lots than other houses are. There are also usually more mature trees around that also provide a sense of privacy, and the most obvious reason is that you've got water and your own land on one side of your property instead of just another house!
That View!: You'll have a view that's like a living painting right outside your windows. One of the reasons that so many artists choose to paint the ocean, or a lake or river is simply because bodies of water are so beautiful to look at. Whether they're dotted with fishermen in boats, or water birds dipping in and out on the air currents, there's nothing quite as beautiful to gaze upon than a water scene.
Fun!: You'll have endless opportunities for recreation at right outside your door. Boating, fishing, swimming, sailing, kayaking will all be available and accessible at a moment's notice. When you live on the water, there's very little reason to feel bored!
At Fulbrook Homes in Fulshear, Texas, you'll have the best of two worlds -- life on the water in a beautiful rural setting, and a short commute to nearby Houston for work, shopping or a little city culture!