The Brazos River is Flowing with History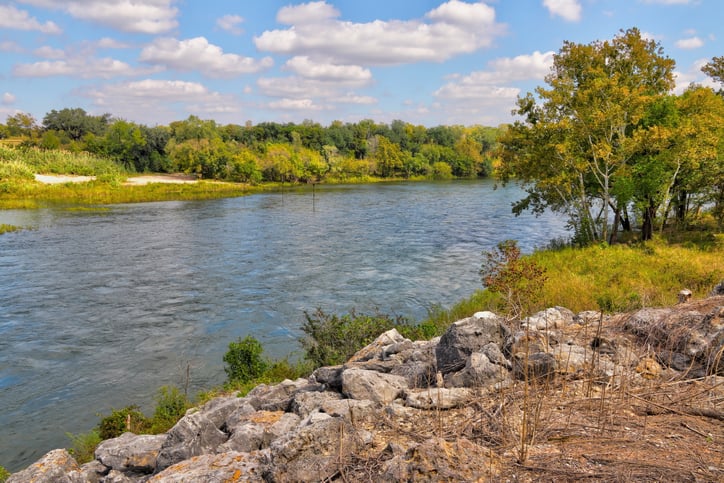 Many of our lovely acreage homesites overlook the Brazos River, a site flowing with Texas history. Here, Fulbrook shares a piece of this past, while offering a modern lifestyle among the varied landscape of Fort Bend County.
Once called Rio de los Brazos de Dios, or "The River of the Arms of God," by Spanish explorers, the Brazos River has long been an important part of Texas history. In fact, Washington-on-the-Brazos, is often referred to as the "birthplace of Texas."

In 1836, delegates gathered in an unfinished wooden building on the banks of the Brazos to sign the Texas Declaration of Independence. They remained there for seventeen straight days and nights to forge a constitution and a government, creating the Republic of Texas. At the same time, Mexican forces, led by General Santa Anna, were laying siege to the Alamo, in San Antonio, a mere three-day march from Washington. The battle at the Alamo resulted in the deaths of more than 200 Texans, including Colonel William Barret Travis and Jim Bowie, and over 600 Mexicans.

Realizing that danger was eminent, and that their lives would be jeopardized if the revolution failed, the delegates remained in the camp on the Brazos for two days after the fall of the Alamo to finish their work. By March 17th, the delegates were forced to flee Santa Ana's advancing troops. William Fairfax Gray reported at the time that "The [Convention] members are now dispersing in all directions, with haste and in confusion."
The Mexican War moved quickly from there. On March 27th, over 300 Texas rebels lay dead in the Goliad Massacre. Sam Houston's men defeated Santa Anna's troops in 18 minutes on April 21st, in the notorious Texan Victory at San Jacinto. Texan scout Henry Karnes captured the self-described "Napoleon of the West," Santa Anna the following day. On May 14th, Santa Anna signed the Treaty of Velasco, agreeing to withdraw his troops from Texas soil.

Brazos River remains a central feature in this landscape, and has always been an important resource for recreation and agriculture. The river also ties us to a sense of Texas history. Come and be a part of this history and visit us at Fulbrook.