Take Advantage of 200+ Acres of Open Space in Fulbrook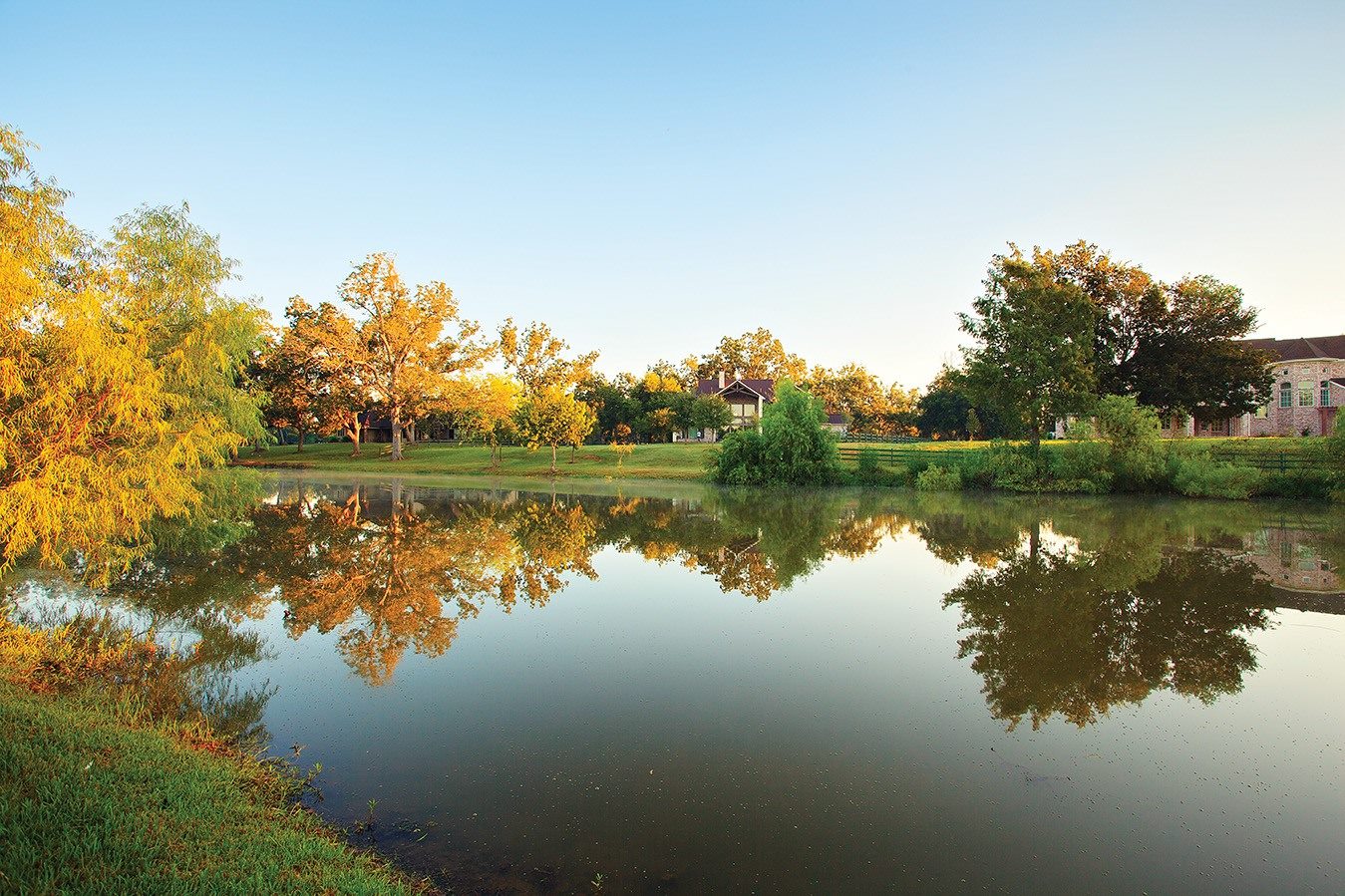 Fulbrook was born from the simple belief that people – and nature – need room to live and grow. That's why we made plenty room for permanent open space that families could enjoy for generations. Here you'll discover 200+ acres of preserved nature, dotted with adorning oak trees, pecans, wildflowers and more. This is what it means to live at home with nature!
Hiking or biking on nature trails
Our 5 miles of nature trails weave through Fulbrook, offering the best views of lakes, ponds, rivers and countryside. Starting from the welcome center, you can take the Wild Goose Pond Trail to a beautiful observation area, crossing over Pecan Lake along the way – or opting for a shorter route via Pecan Lake Trail. Bessie's Prairie Trail will weave you through beautiful grasslands and rolling hills until it converges with Harris Woods Trail or Bessie's Creek Trail. That's just a sample of the adventures that are awaiting on our growing trail system!
Go kayaking or canoeing in Oxbow Lake
Our boathouse has 10 boat slips for your kayaks, canoes and the like – located on the tranquil banks of Oxbow Lake. This is where you can spend the day on your own fishing or boating adventure. The crescent-shaped body of water stretches across the community, which means there is plenty of space to explore. Oxbow Lake also has a fascinating early history and there's more beneath the surface than most people realize. Over 30 years ago it was the site of an archaeological dig that yielded artifacts from a prehistoric settlement dating back as far as 1100 AD!
Relax to the sounds of the Brazos River
The Brazos River is Texas's longest body of water and it flows right along the south end of Fulbrook, where residents can enjoy the serene backdrop and relaxing sounds of rippling water. The river is accompanied by several other picturesque bodies of water in Fulbrook, including Bessie's Creek and Fulshear Creek, flowing on the north end. Not to mention, there's also a number of small lakes and ponds sprinkled through-out the community – such as Pecan Lake, Harris Lake or Wood Duck Pond.
Observe wildlife, go fishing or have a picnic
There's a reason why the features in Fulbrook have been assigned names like Wild Goose Pond, Spoonbill Pond, or Box Turtle Pond. That's because with plenty of room for nature comes ample space for wildlife. Go on a picnic to the Wendt Forest Nature Preserve to listen to the birds sing or spend the afternoon catch-and-release fishing at White Ibis Pond or at the casting dock on Oxbow Lake. And be sure to stop by Birdhouse Village along the Fulbrook Commons Trail!
• • •
Want to live at home with nature? Our beautiful acreage lots make it possible for you to make your countryside dream a reality, whether that's now or further down the road. We have a variety of spacious homesites ranging from 1 to 3+ acres (or more) available on the shores of the Brazos River and Oxbow Lake or in wooded terrain. Learn more.