Want to Design Your New Home from Scratch?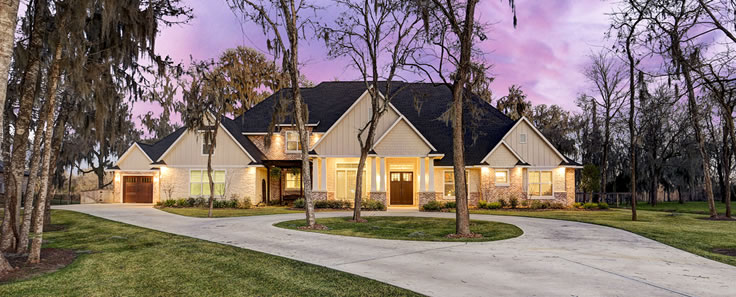 What does it mean to design a custom home? Many homebuilders offer set floorplans with a limited array of personalization options. However, a custom builder typically creates a one-of-a-kind home that can be personalized from the ground up. A custom home can range from a simple 3-bedroom craftsman-style home to a more elaborate design.
You're not picking a plan and improving it— you are starting from scratch to work with our builders to create a home designed around your lifestyle. While each builder has their own specific design process, this should give you an idea of how much detail and planning goes into creating your ideal home.
Meet with Your Builder
The first step to designing your home is to meet with a home builder to discuss your overall needs and desires. This includes determining a budget along with size, location and time frame for building along with planning around the lot you have chosen to build on. This meeting is a great time to get comfortable with the team who will be working on your home.
A few examples of questions to ask yourself:
• What are your needs versus what are your wants?

• What is your budget and timeline?

• How many stories do you want? Two? Three or more? A split level?
"A custom home isn't something you're going to build every year, so you need to set your priorities and decide what you want in your house. You want to get the essentials right the first time. Making a want, need and must have list for your new custom home is necessary even before the construction process begins. Why? It allows you to make a list of the things that are wants and must have's," explains Fairmont Custom Homes on their website.
Draft Your Dream Design
Remember, your custom home can be 100% unique. You have the exciting opportunity to choose every feature – from staircases to doorways to flooring and everything in-between. This is time to create the perfect space that caters to the way you and your family live. From here, your builder will take all of your ideas and design a plan based on your budget to ensure you are getting the most you can possibly get for your money.
A few examples of questions to ask yourself:
• What features do you want built into your home?

• Do you have any recreational activities to take into account?

• Do you want separate formal and informal areas?
"Your home should be as unique as you want it to be. That's why we work with our clients to create custom-built homes, not houses that look just like their neighbors'. Tell us what kind of architectural style and features you'd like, and we'll bring your vision to life," explains Arrow Custom Homes on their website.
Select Your Details
Now it's time to add the finishing touches, like cabinets, flooring, windows, paint and lighting. These details will add to the aesthetic of your home – whether that is a contemporary, craftsman, or country design to colonial, Mediterranean or something completely unique! Some builders may incorporate this step while the main parts of the home (foundation, frame, etc.) are under construction.
A few examples of questions to ask yourself:
• What kind of accents do you want in the home?

• Are there any specific materials you want to include?

• What color palette do you want to use?
"The interior of your home will reflect the colors and finishes you selected. Your home will have cabinets and vanities, interior doors and moldings that will be painted by hand with the finest touches and detail," explains Ronny Carrol Homes on their website.
Finalize Your Design Plan
Once you have created your design plan, it is time to get everything lined-up for construction. Most of this work is done behind the scenes by your building team, but there are a few things you will need to take care of as well. This includes agreeing on a price for your home and obtaining financing. Then leave it to your building team to direct your vision and bring your dream home to life.
"At this point we are nearing construction. We will be doing many things for you behind the scenes including ordering soils tests, detailing and finalizing your plans, setting your construction schedule, and upon completion of plans, engineering the foundation, frame, and obtaining the required permits. We go over every detail of the final plan to make sure you are getting everything you want," explains Daybreak Custom Homes on their website.
Here in Fulbrook Estates, you can build your dream home on a beautiful acreage lot and choose from one of our reputable custom homebuilders – including Arrow Custom Homes, Courtland Building Company Inc., Daybreak Custom Homes, Fairmont Custom Homes and Ronny Carroll Custom Homes.